Hagar The Horrible didn't start until 1973 but would eventually become cartoonist Dik Browne's most famous creation, despite his decades of illustration work that preceded it. It reached it's peak of popularity sometime during the mid-70s to early 80s, as it began to be syndicated internationally.
He never made it into American comics like his other strip HI AND LOIS, but a series of comic albums of original stories was published overseas beginning in 1977. These have never been published in the U.S. yet, but we're going to look at one of the U.K. editions here, with the story of how Hagar the viking conquered England...
By Dik Browne (although in my opinion, some of this may have been 'ghosted')
from HAGAR IN ENGLAND (ISBN 0-416-05050-6) 1978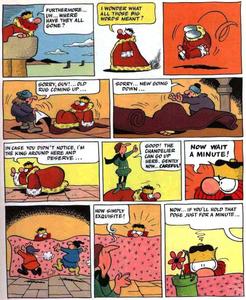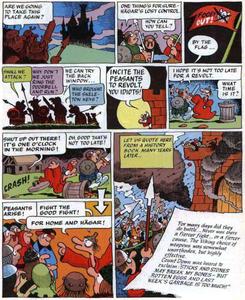 Sunday Funnies mashup:
HAGAR vs ANDY CAPP
Did you know Hagar had a board game?
INFO HERE
Hagar advertised for Skol beer in these animated commercials from the late 80s:
ONE
TWO
THREE
FOUR
A list of the running gags in the strip
HERE
Robert T. McKinlay's collection of Hagar strips clipped from the newspapers
HERE
A bizarre fanfic article on Hagar
HERE
*