In their entire history of publishing, Archie Comics have never been called "cutting edge" or "experimental". I agree wholeheartedly with the former, but as for the latter, a closer scrutiny tells another tale.
Over the years they have in fact
tried
some experiments, usually in direct response to what was working for other publishers at the time. When Dennis The Menace, Nancy, and Peanuts were at the height of popularity, they launched
LITTLE ARCHIE
. At the peak of the "Marvel Age" of comics, they created new secret identities for all their teenagers
and
revived their own golden age heroes as well. When the BEATLES and and BEACH BOYS topped the charts, they spawned their own rock band with a #1 hit single. The teenage witch SABRINA was created when magical comedies like BEWITCHED were popular.
There's a few more examples, but you get the idea by now. Let's just skip to 1990 and pretend I covered everything in between, okay?
After CRISIS ON INFINITE EARTHS and SECRET WARS, the bigger comic companies were revising all their characters for newer audiences. Like always, Archie Comics jumped on the bandwagon by creating new scenarios for their stable of characters. One of these involved Forsythe P. Jones as an adventurer who righted the wrongs in history (like on that TV show
VOYAGERS
). The result was better than you'd expect, but for lack of sales got cancelled after six issues. A different publisher might've gotten a hit with it, as it was worthwhile and deserved a longer run.
Perhaps they should've tried putting
Gene Colan
's name out on the cover instead of inside on the first page.
from JUGHEAD'S TIME POLICE #6, May 1991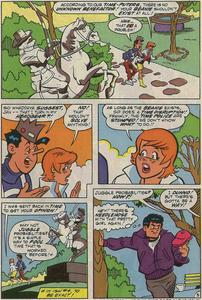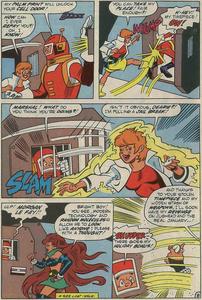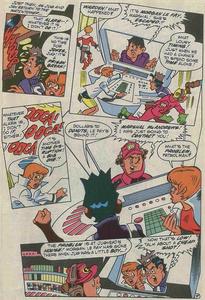 A Brief Look At The Experimental Archie Comics
*