I'm not exactly sure why, or who thought it was a good idea, but when Atlas Comics officially became Marvel Comics, Patsy changed from a teen humor to soap opera styled romance series. The result of this is just about what you'd expect; after twenty years running as a popular series, it ended up getting cancelled. It just proves the point that "
if it ain't broke, don't fix it
".
Just speculating here, but if they had stuck to the formula, you'd see Patsy comics at the grocery store checkout instead of
Betty and Veronica
.
This melodrama is by
Stan Lee
and
Sol Brodsky
.
from PATSY AND HEDY #99, April 1965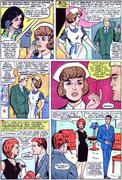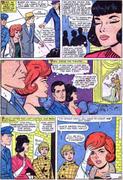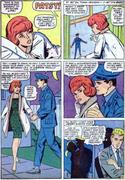 TIP: just click on the first page, then use the "next" button to read the whole story
*